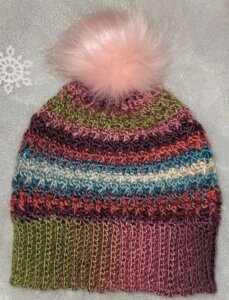 Caffeinated Hooker
Sandy Bell
Fiber
Image: background
My name is Sandy, and I am the Caffeinated Hooker. I love my coffee and I love my yarn. I have been crocheting for 36 years and I've been knitting for 3 years. I have also been teaching crochet for many years. It is my favorite thing to do.
Every item in this shop is hand-made by me. I knit and crochet using yarns that I find visually appealing with a rich texture. Many of the yarns I use are wool or wool blend. I have several acrylic items as well. My favorite yarn to use is called "roving," which is more like a natural, hand-spun style yarn. Most of my items are original creations, not following any pattern, but you'll see some of the same patterns in different colors. I usually go with the flow of the yarn. Different stitches and yarn weights created different textures. I let the yarn do what it wants to do.
I can also do customer orders. All custom orders require a deposit to cover the cost of materials, which is usually 50% of the final price. Please email for custom orders. Custom orders can be hats, gloves, mittens, scarves, blankets, shawls, ponchos, leg warmers, slippers, or large stuffies.
If you'd like to follow me on social media:
Facebook: www.facebook.com/caffeinatedhooker
TikTok: @CaffeinatedHooker 
Instagram: https://www.instragram.com/caffeinatedhooker
Online Sales
Caffeinated Hooker is setting up their online store. Check back or email/call for purchase information.
Online Store
Artwork for sale isn't set up yet. Please check back soon or email/call for purchase information.
Need help?
If you have a question about an order, an item, or a pickup, please contact the artist.
If you need help with this website or your customer account, or if you are an artist in need of support, please contact us.
Are you an artist who would like to be included? Learn more and register here.