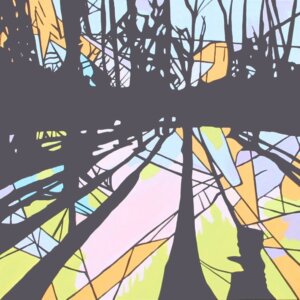 Michael Slagle
Michael Slagle
Painting
My paintings are based on the landscapes of my neighborhood in Lakeland, compositions I have encounted on my daily routine: walking the dog, out and about with my kids, etc.  If I spot an interesting composition I will either take a picture or draw it, or both, and manipulate the image in Photoshop. Using Photoshop I flatten areas in the image, play with the composition, and tweak the colors.
In my most recent paintings I take the process one step further in Photoshop by incorporating a street map of Lakeland into the painting.  By incorporating a map into a painting I'm combining two different perspectives into a single scene: a map, which is meant to be read literally, and a painting, which is a stylized representation.
Online Sales
Michael Slagle is setting up their online store. Check back or email/call for purchase information.
Need help?
If you have a question about an order, an item, or a pickup, please contact the artist.
If you need help with this website or your customer account, or if you are an artist in need of support, please contact us.
Are you an artist who would like to be included? Learn more and register here.