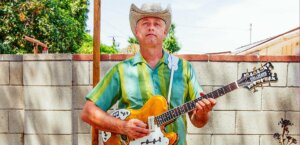 Deke Dickerson
Music
Deke Dickerson is one of America's greatest musical treasures.  Over the years, Dickerson has sought to keep many of the great genres of roots music alive–Rockabilly, Western Swing, Surf, Doo-Wop, Honky-Tonk, Garage Rock–while bringing in his own original songs and entertaining personality into the mix.  Minnesota State Fair patrons may remember when Dickerson performed at the fair with a man in a gorilla suit on bass; or the entertaining set he did with Twin Cities legends The Trashmen back in 2015 (Dickerson also cut a new album with the group at that time, 'Bringing Back The Trash.').  In addition to performing, Dickerson does music for films and television shows (he did the soundtrack to Johnny Knoxville's last feature film, 'Action Point,' for Paramount Pictures), and writes for several guitar magazines and book publishers (his latest book, due in spring 2021, is a biography on the life of singer-songwriter-guitarist Merle Travis, of '16 Tons' fame).  Like most of the full-time musicians and creative people, Dickerson has had a year's worth of performances cleared from his calendar because of the Covid crisis.  Please buy some merchandise from his online shop, or support him through tips to paypal.me/harmandickerson or Venmo to @Deke-Dickerson  Dickerson hopes to return to the Minnesota State Fair "as soon as they'll have me back."  It's one of his favorite gigs.
Online Sales
Deke Dickerson is setting up their online store. Check back or email/call for purchase information.
Need help?
If you have a question about an order, an item, or a pickup, please contact the artist.
If you need help with this website or your customer account, or if you are an artist in need of support, please contact us.
Are you an artist who would like to be included? Learn more and register here.