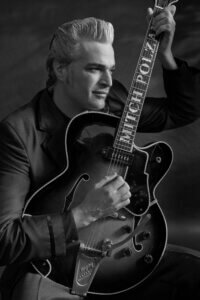 Mitch Polzak & The Royal Deuces
Mitch Polzak
Music
Image: Banner-CreamOfTheCropSmokin
EVERYTHING YOU WANT & NOTHING YOU DON'T… for over 20 years!
Mitch Polzak & The Royal Deuces were founded in Northern California in 1999, and have been entertaining audiences worldwide with their highly original sound and show ever since. The three-piece band, fronted by Polzak on Guitar, vocals, and five string banjo play a wide representation of American Roots Music from Rockabilly to Honky Tonk. Polzak's incredible showmanship and ability to connect with his audiences as well as his diverse background in multiple genres (including Surf Banjo, Bluegrass and Cajun), contribute to what makes his sound and show so unique. Polzak truly extends an invitation for connection and adventure on every show!
Check out MItch Polzak's music, vintage compact discs, and other merch on his website!
---
Holidays At The Polzak Ponderosa!
THIS JUST IN!  Mitch Polzak and his partner Marlyn Sevilla (Team M&M) have released a full-length feature concert film, "Holidays At The Polzak Ponderosa!"  Special Guests! Original Songs!  Heart warming stories! Honky Tonk Holiday Arrangements!  
15 solo guitar arrangements of your favorite classic Christmas and Gospel songs as well as Polzak's brand new original song "Silver Linings". Featuring both electric and acoustic guitar, Polzak's musical arrangements bring forth the spirit of Duane Eddy, Merle Travis, Chet Atkins, Mother Maybelle Carter and create a fresh yet classic take on Holiday tunes you will find joy in reconnecting with. Holiday music is alive and well at The Polzak Ponderosa! This wonderfully uplifting virtual concert is sure to bring a smile and a feeling of joy to your holiday season in 2020 as well as many years to come.
Available as a Video on Demand purchase or rental! Check out the trailer and spread the word!
Holidays At The Polzak Ponderosa! from Polzak Productions on Vimeo.
---
​Mitch's ability to engage, connect with, and entertain an audience is something that runs deep in the family history as Mitch is a direct descendant of August Ringling of the Ringling Bros. Circus and nephew of the renowned Chicago-based jazz pianist, Peter Polzak.
Mitch Polzak plays about 230 shows a year, and is completely committed to his career path as a full-time working musician, with the goal of taking his show to larger audiences around the world every year. The love for performing and the music shine in his energetic shows, which he creates without a set list, basing them on audience reactions and building energy in the room. He gives each show 100%, and is also known to perform for several hours straight without breaks.
Mitch Polzak & The Royal Deuces have played in the U.S., Spain, Holland, Belgium, Germany and the Czech Republic; and he looks forward to taking his music to more parts of the world!
LIVE ONLINE SHOWS!
Mitch Polzak has begun livestreaming his feel-good, one-man band interactive concert shows twice a week since the start of "Shelter-in-Place" orders in March. Tune in every Tuesday and Friday for the livestreaming broadcast "Live From The Polzak Ponderosa" and "Banjo Bonanza" from Mitch Polzak's profile page on Facebook!
Check out more music and show highlights on the Polzak Ponderosa website! 
Mitch Polzak & The Royal Deuces – Live
Mitch Polzak's weekly livestream shows "Banjo Bonanza" (Tuesdays 7PM - 8PM PST) and "Live From The Polzak Ponderosa" (Fridays 6PM - 9PM PST +Bag Fries!)
Online Sales
Mitch Polzak & The Royal Deuces has an external system for taking orders, separate from this website.
Online Store
Mitch Polzak & The Royal Deuces has an external system for taking orders, separate from this website.
Need help?
If you have a question about an order, an item, or a pickup, please contact the artist.
If you need help with this website or your customer account, or if you are an artist in need of support, please contact us.
Are you an artist who would like to be included? Learn more and register here.